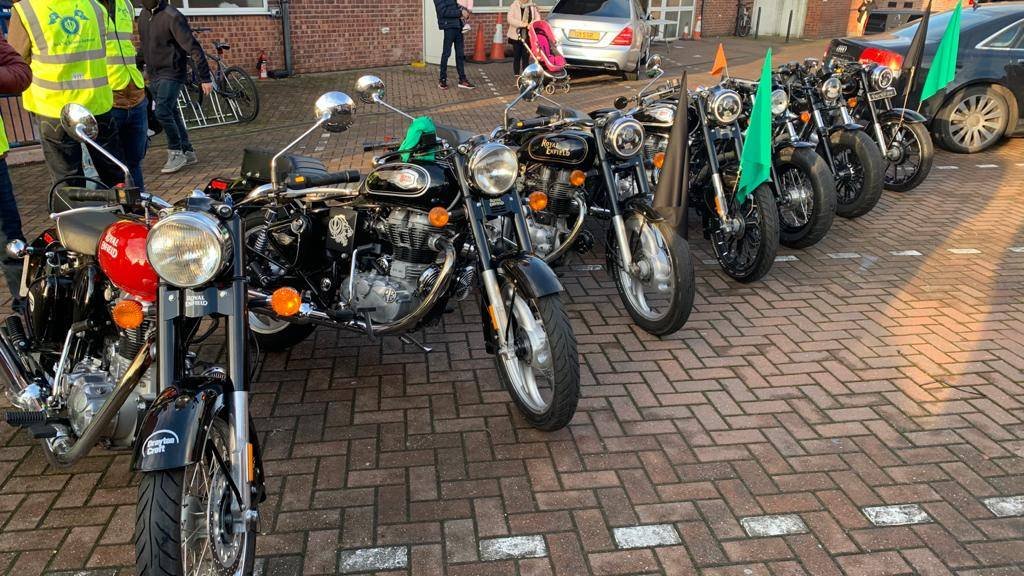 387733463 10161059601823270 3405928711924319623 n
Members visits Duleep Singh grave




Sikh Motorcycle Club UK
The Sikh Motorcycle Club UK: Promoting Sikhi, Raising Awareness of Turbaned Riders, and Building Brotherhood
The Sikh Motorcycle Club UK is a positive and inclusive organisation that welcomes people of all backgrounds. We are passionate about promoting our faith, raising awareness of Turbaned Riders, and building brotherhood.
Promoting Sikhi: We believe that Sikhism is a beautiful and enriching faith, and we want to share it with the world. We do this by educating the public about Sikhism and its values, and by organising events that promote Sikhi culture and heritage.
Raising awareness of Turbaned Riders: We believe that it is important to raise awareness of the challenges that Turbaned Riders face. We do this by speaking out about these challenges, educating the public about Sikhism and Turbaned Riders, and by organising events that showcase the diversity and talents of Turbaned Riders.
Building brotherhood: We believe that it is important to build brotherhood among Sikhs. We do this by organising events that bring Sikhs together, such as motorcycle rides, charity events, and social gatherings.
We are a proud member of the British Motorcyclists Federation, and we welcome like-minded motorcyclists from all walks of life who enjoy riding and exploring new roads and areas.
We hope you will join us on our journey to promote Sikhi, raise awareness, and build brotherhood.
Here are some of the club's activities:
Rides: We organize regular rides to different parts of the UK, providing a great way for members to explore new places and meet new people.
Events: We also organize other events, such as charity events and social events, giving members a chance to get involved in the community and meet new people.
Support: We provide support and advice to our members, including help with finding a new bike, getting insurance, and dealing with any problems that may arise.
Awareness: We also work to raise awareness of issues that affect the Sikh community, such as discrimination and hate crimes.
If you are a Sikh motorcyclist in the UK or simply interested in learning more about our club, please feel free to reach out to us through our website or social media. We would be happy to connect with you.
#SikhMotorcycleClubUK
Ride with Pride.
Sikhism – The Path of Discipleship
The word Sikh means "disciple" or "learner." Sikhism is a monotheistic religion founded in Northern India in the fifteenth century by Guru Nanak Dev Ji. Sikhs believe in one God, the equality of all people, and the importance of living an honest and ethical life.
Three Basic Principles of Sikhism
Sikhs believe in three basic principles:
Naam Japna – Meditating on the name of God: Sikhs meditate on the name of God to connect with the divine and to develop their spiritual consciousness.
Kirat Karo – Earning a living by honest means: Sikhs believe in earning a living through honest and hard work. They are taught to avoid any activities that are harmful to themselves or others.
Vand Chakna – Sharing the fruits of one's labor with others: Sikhs believe in sharing their wealth and resources with those in need. They are taught to be generous and compassionate.
Sikh Turbans
Sikhs wear turbans to cover their long hair and as a sign of their respect for God. The Sikh turban is a symbol of Sikh identity and spirituality.
Sikh Teachings
Sikism teaches the importance of freedom, equality, and justice. Sikhs are taught to treat all people with respect, regardless of their race, religion, gender, or social status. Sikhism also emphasizes the importance of service to humanity. Sikhs are taught to help others in need and to work for the betterment of society.
Sikhism in the World
There are about 25 million Sikhs in the world, with the largest Sikh communities in India, the United States, Canada, and the United Kingdom. Sikhism is a universal religion that welcomes people of all faiths and cultural backgrounds.
Rides
We are passionate about riding and will continue to do so for good cause, give us a call

Events
We are creating awareness about Sikh Motorcycle Club UK & Turban Riders by attending various events across the UK.

Sikhi
We would like to educate our fellow citizens about Sikhi and create awareness.